Feet of Clay is a site-based work that uses the Wimmera landscape as a backdrop for a series of performances that explore ideas of memory, space and body, and belonging. The outcome: an interdisciplinary composition that is shaped by the temporal dimensions of performance and improvised sound.
Description:
Feet of Clay is an interdisciplinary work produced in the northwest Victorian landscape of the Wimmera. Assisted by funding from Arts Victoria and the Sidney Myer Fund, 'Feet of Clay' made its debut at the 2009 Nati Frinj Festival.
Filmed at iconic sites such as Mount Arapiles and Wyn Wyn salt lake, Feet of Clay is a series of site-specific performances where the artists explores notions of belonging and identity, as a daughter of a Wimmera farmer. The work is a composition of performance and, improvised sound, which creates a sensorial landscape of memory and involves the act of remembering. Installed within the domestic space of a house (a building that was once used as a mental hospital), Feet of Clay invites the viewer to experience a series of visual narratives, evocative of the surrounding landscape of Natimuk, as well as being reminiscent of personal memory. For example: the participant looks through a window with its glass no longer in the frame to a dressing table that sits in the corner. Projected into the mirror of the dressing table is a scene from a visual narrative produced within the Wimmera Landscape: a woman hangs upside down from a tree, slowly spinning. An image of a dead fox, shot by a farmer, and hanging slumped over a barbed wired fence then comes into view. The narrative is ambiguous, with the absence of a dialogue, and the dialogue for this memory becomes the musical score. Feet of Clay was supported by improvised music composed by David Chisholm and performed by musicians, Tristram Williams and Geoff Lierse.
Director of the festival, Kate Finnerty, reflected on Feet of Clay in 2009, saying:
"Leaving the bright summer light behind, viewers were invited into a dark abandoned house. Time stood still as one was confronted by disturbing, haunting and quite beautiful scenes offset by the familiarity of the local landscape. Walking from room to room became disorientating as the music took hold and one was left with a sense of wonderment back in the bright midday sun.  It was an incredible use of space, lighting, projections and music that made the whole experience very personal. Many people I have spoken to were deeply affected by Sharon 's work and we watch with interest the career of this promising young artist. It added another layer and depth to the festival. Haunting, fleeting visions, airy music and questions about our existence on this arid land."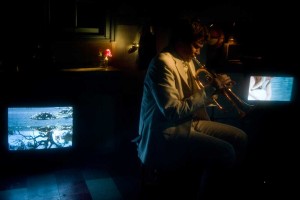 Goat Gallery director, Rob Grenfell
"Some outstanding features [of the Natimuk festival] were the Feet of Clay installation piece in Nat's house which was one of the highest international standard artistic pieces I have ever seen."
The Team:
Creative Director: Sharon Huebner
Composer: David Chisholm
Additional Features:
Technical Specifications:
This work exists as HD digital video. It can be viewed as a screen based work or used for larger projections. The technical specifications vary according to the site. For example: within a gallery space the work would require 1 (or more) projector's and a projection surface, or alternatively if a screen based show, a series of monitors. Feet of Clay is a highly versatile production with the potential to be installed and viewed within multiple sites, including a theatre setting or alternatively a domestic or site-specific venue. The technical specifications for the installation cater to budgets both large and small. Equipment required to meet the audiovisual components of the production are: Uninterrupted power supply (UPS). HD digital video projectors – the number of projectors required is dependent on the space being used for the production. For example: 5 projectors were used in the 2009 showing of Feet of Clay along with 4 TV monitors. Sharks-tooth theatre scrim, projection screen, or TV monitors. Mobile audio devices for sound installation, synced separately to the digital video to allow for musical improvisation on site. The Performance specifications are unlimited. The 2009 production of Feet of Clay included two improvised performances by musicians, Tristram Williams and Geoff Lierse and by artist, Sharon Huebner. Feet of Clay works as an installation with or without the added virtuoso performance.