Follow Me Down The Way is a series of short stories told through projected comic illustrations by Mandy Ord with live music by Rose Turtle Ertler.
It allows viewers to drift off into a fictitious, fantastical black and white world with delicate songs floating in their ears.
Description: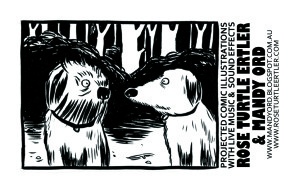 Follow Me Down the Way can be viewed on a large screen in a cinema environment or in a more intimate setting for smaller audiences.  It was a hit at the last Nati Frinj when it was performed in an empty living room for tiny audiences of ten people at a time. While Mandy Ord's stark and powerful comic illustrations for projected onto a wall, Rose performed a mesmerising soundtrack on ukulele, banjo and voice.  The audience relaxed in comfy chairs while munching on crunchy popcorn.  During the Nati Frinj, this eight minute show was performed twenty five times over two days.
The Team:
Rose Turtle Ertler - musician/performer
Mandy Ord - comic illustrator
Additional Features:
Technical Specifications:
Follow Me Down The Way can be either:
1/ a very small scale performance in a room (e.g. a living room) and therefore needs no PA, just a flat wall for projection.
2/ shown in a large cinema environment (indoor or outdoor). For this, 2 mics (1 vocal, 1 instrument) and 1 DI (for ukulele) will be needed.
Rose has a data projector that can be used.
Links: