Jillian Pearce
[ssba]

Jillian Pearce,

Y Space's Director, is an experienced creative producer and director having delivered highly complex large-scale large budget projects on high and unusual structures since Y Space (an aerial performance company) was established in Natimuk in 1999.

www.Y Space.com.au

Y Space work with Climbers and Dancers specialising in inhabiting and redefining iconic structures, the work has been seen on a Coal Dredgers, Arts Centre Spire, Churches, Sky Scrapers, cliff faces, quarries, enormous bamboo structures (through Bambuco relationship, also based in Natimuk) and of course, Silos. Large scale productions have included Colony on the Victorian Arts Centre Spire, Space and Place for both the Nati Frinj Biennale 2003, the RAA conference Meeting Place in 2004 and Cirque de Silo in 2005. Latrobe Space and Place (2006) involved an 18-month project, residency, artist mentorship model, and 250 Community participants. Other projects of similar scale have included the opening of the Elements Shopping Centre sky scraper in Kowloon Hong Kong and three 3 years' worth of Advent Calendars in Federation Square with Insite Arts involving aerial work and projection over 25 days, rehearsal director Highly Strung (produced by Dave Jones/Transience). Having a strong community engagement practice inherent in her work, she was also Performance Director in a Mary French/Strange Fruit/Art Is … Festival collaboration Flock, Dookie Earthed Small Town Transformation Project 2014, Ansett Aflight Hamilton 2016 and Swanhill 's Fairfax Festival 2016. Before moving to Natimuk, she has worked with desoxy theatre, NYID and Big Fish Dance. She has toured for 8 years internationally with Bambuco as choreographer, constructor and performer which also included a Cultural exchange position with the Accroche Coeur Festival in Anger in 2003. This year, she is developing a new large-scale work "

Dusk

" on the local Silo. Three different nightly aerial/projection/community performances that reflect the day that was at the Nati Frinj Biennale.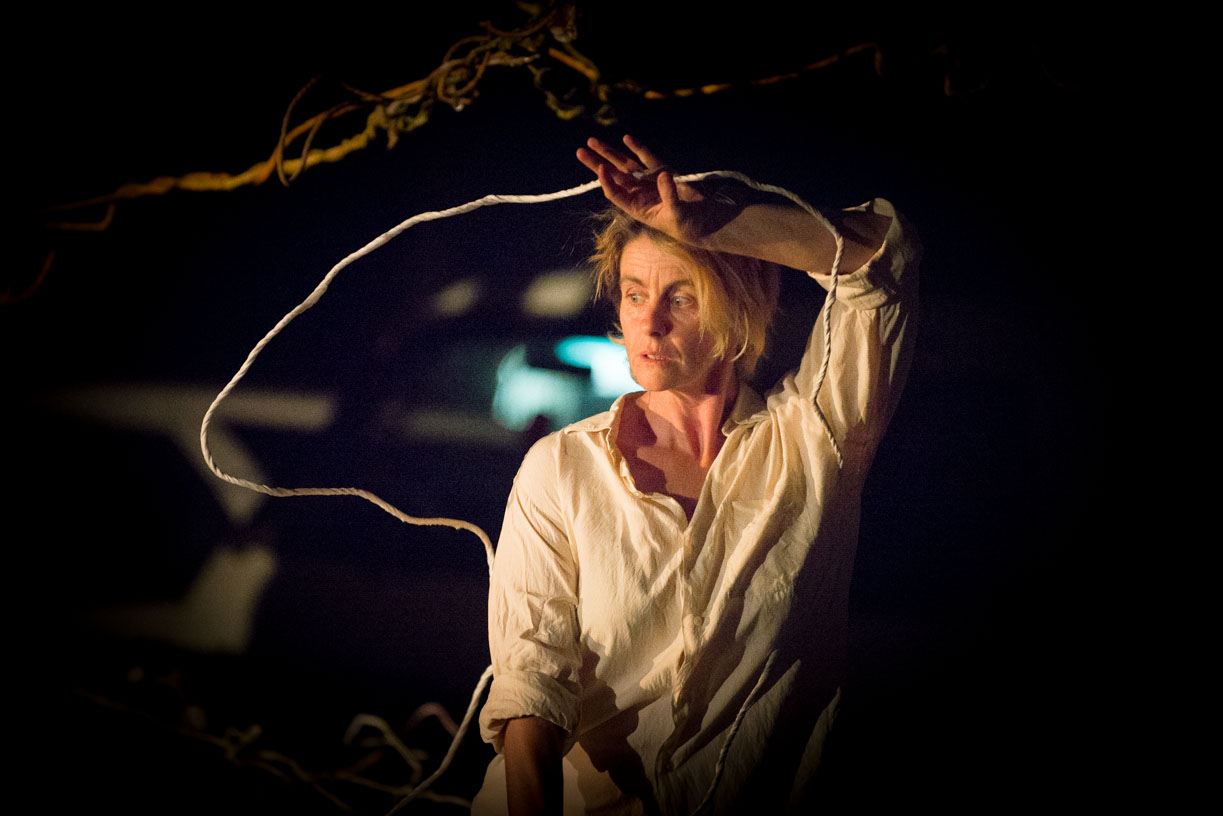 Also see...
Dusk