Poppet Post #2
[ssba]

Hey again from team Poppet!

Our June Creative Development was jam-packed with a range of activities, workshops and community connections. These included –
A light painting workshop run by projection artist Dave Jones with the CreateAbility performance group supported by Kate Stones & Sam Thomas
A descent by Dave & Jillian to the 9 levels of darkness at the Central Deborah Mine
A talking tram history tour taken by Mary, Verity & Jillian
An early morning catch-up with the young aerialists from ZFit
A wonderful information sharing session with the Bendigo Field Naturalists with a follow-up guided walk in the whipstick forest
A visit to the Bendigo Joss House Temple – the oldest Chinese Temple of traditional design in Australia and the only surviving temple in regional Victoria.
One major focus for this visit was a full day story-structure planning session with the core creative team. This included a review of all the ideas that have emerged thus far fro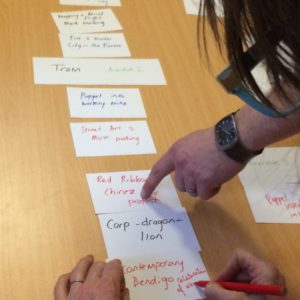 m research, our project partners, individual artistic strengths/passions, and community engagement; then a look at what is missing and a flexible plan for a way forward, including room for new discoveries.
Meanwhile other (perhaps less exciting to most!) essential 'behind the scenes' admin and project logistics work continues, lead by Poppet producer, Greg Pritchard.
Did you know?   The brush tailed phascogale is a local threatened marsupial and there is a nesting box project to help with their survival.

Keeping you in suspense – starting in August are some aerial-performance 'taster' workshops for interested community members 😉