The latest from team Poppet
Getting to the pointy end of the project now but still great opportunities for the local Bendigo community to get involved. There will be free school holiday Shadow Puppetry workshops and also a chance for people into fitness to be incorporated into a celebration of the Poppet Head as a 'work out zone' at the start of the performance. For up to date information about these go to – https://www.facebook.com/poppetbendigo/
Rigging of the Poppet Head will be taking place over four days from September 24th in preparation for starting aerial rehearsals on October 1st. If you are in town there will likely be activity on the Poppet Head from then until performance night on October 20th. Apologies to all the very fit people who regularly use a run up the Poppet Head stairs as part of their exercise regime. We would love you to be involved in the event however  – refer above!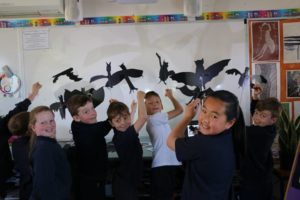 There have been some terrific animation and shadow puppetry workshops at Camp Hill Primary School with the children learning about their local fauna from Karen Thomas of the Bendigo Field Naturalists Club. Participants in the community shadow workshops have also created and filmed some striking images.
If you can save the date – October 20th – we would love to see you at the Poppet event to view Bendigo in a new light and also perhaps to check out if this model of performance building is something you may interested in for your community.
(note: bad weather contingency October 21st)